OUR MISSION:
Theatre Jacksonville is a volunteer based community theatre whose mission is to enrich lives and broaden cultural understanding through community participation in theatre arts.

This mission supports inclusion and the development of diversity in the Company's artistic, volunteer, audience and donor bases. This goal is achieved through presenting plays and programs of noted artistic excellence, supporting volunteers and students with exceptional training and educational opportunities, and allowing for the development of unique and/or original performance projects and events by Florida artists.
Since 1919,
Theatre Jacksonville is Florida's longest running community theatre.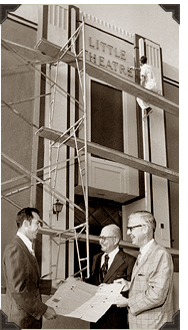 THEATRE TIMELINE:
2023. In September 2022, Theatre Jacksonville kicks off the 103rd Season with full programming, including mainstage, education classes for adults and children, our Jr. Mainstage, Stories on Stage, summer camp and two extras, An Evening with Mark Twain and Dinner with Booker T.
2022. In January, Theatre Jacksonville kicks off the 102nd Season, a shortened season, as the transition back to full programming, including mainstage, education classes and summer camp, in-person.
2021. In November, Theatre Jacksonville reopens the playhouse to finish the 100th Season and begins the transition back to full programming, including mainstage, education classes and summer camp, a hybrid, in-person and online.
2020. In March, Theatre Jacksonville closes the playhouse due to COVID-19. Postponing in-person offerings but continues 101st Season full programming, including mainstage, education classes and summer camp, virtually.
​
2020 Theatre celebrates 100th Anniversary.
​
2009. In December, City Council Resolution 2009-916-A recognizing and commending Theatre Jacksonville upon the occasion of its ninety years of uninterrupted community theatre in Jacksonville.
​
2008. Renovation of Upstairs lobby completed.
2007. Entrance Lobby renovated in the style of original art deco building design.
​
2005. Auditorium seating replaced for the first time in forty years.
​
2004. Theatre celebrates 85 years of continuous operation.
1998. In March, City Council Resolution 98-160-A honoring the company's longevity, specifically citing the sixtieth anniversary of the Harold K. Smith Playhouse.
​
1997. In June, the Harold K. Smith Playhouse Endowment for facility maintenance was implemented at $500,000.
​
1995. Diamond anniversary celebrated in July.
​
1994. Jessie Ball duPont Fund "Turn Around Award" recognizes the company's turn around of both its artistic and financial profiles.​
​
1994. In May, local historic designation granted by Jacksonville's Bureau of Historic Preservation.
1994. In January, City Council Resolution 95-251-59 honoring the company's history, its implementation of Educational Outreach Program goals and projects, and "concerted efforts to diversify both the company's program offerings and their appeal to multicultural constituencies."
1991. Facility named to The National Register of Historic Places on July 11th.
​
1972. First mayoral proclamation naming Theatre Jacksonville as Jacksonville's "Official Theatre," reconferred by all succeeding mayors.
​
1969. Reincorporated as Theatre Jacksonville, Inc.
​
1938. First production in San Marco facility, Boy Meets Girl, opens on January 4th.
​
1927. Ground-breaking for building.
​
1926. Incorporated as The Little Theatre of Jacksonville; dollars and land required for the construction of the theatre's historic San Marco facility donated by Carl S. Swisher.
​
1919. Company founded.